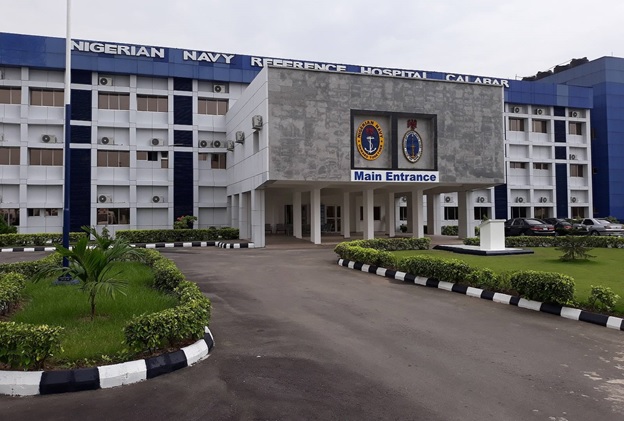 Nigerian Navy Reference Hospital Calabar in one of 3 tertiary health facilities operated by the Nigerian Navy. It is a 100-bed, world class reference hospital located in the heart of Calabar, a scenic city in southern Nigeria. The hospital is equipped with cutting edge diagnostic and surgical equipment. NNRH Calabar was established in response to the need for expanded health services provision to personnel of the Nigerian Armed Forces and the general civilian population. The hospital is also effectively manned by highly skilled medical and allied professionals hence its slogan "Trusted Hands, Touching Lives".
Website address: https://nnrhcalabar.com.ng/Home.html.
HISTORY OF NIGERIAN NAVY REFERENCE HOSPITAL (NNRH) CALABAR
NNRH Calabar was established by NNO in 1982. It started as a 39 bed hospitals located on Old Secretariat Road in Calabar. The hospital has catered for the healthcare needs of Officers and Men within the Eastern Naval Command, their families as well as civilians within the general Calabar area.
With increasing population as well as growth in the number of Service personnel in the area, the old hospital has struggled to meet the attendant challenges due, in part, to a lack of space for expansion. To ameliorate these challenges, the Nigerian Navy embarked upon the task of completing the hitherto planned Nigerian Navy Reference Hospital in Calabar.